The following are some recent projects/roles undertaken at WAB:
Chair of Systems Technology Committee/Member of FLoW21 Steering Committee
The current focus is exploring systems that have the potential to support key FLoW21 targets such as self-directed learning. The journey of the Future of Learning at WAB is documented here and here.
Learning Management Systems Investigation
For the middle and high school we have been researching a range of Learning Management Systems to replace our existing Moodle LMS. We are focusing on the collaborative features of an LMS to support asynchronous learning beyond the constraints of the classroom.
Capstone Pilot
My role is to mentor and guide the students through a self-directed learning journey that comprises 20% of their high school studies. More details are here in addition to my L2Talk from last year.
Microsoft Challenge with High School Geek Force
Our Geek Force students are building a relationship with the Microsoft team here in Beijing. The goal is to give our students insight into a software engineering career.
iOS App Development with Grade 10 MYP Design Students 
We have successfully run this unit for two years. Last year, I joined the Grade 10 MYP Design Teachers (@jen_simon) to develop and run a new unit (App It Up!) where students worked in small teams or independently to design and develop an app for a target market. The students learned the basics of programming using Xcode and Swift as well as UX/UI design.  Jen posted here and here about the initial stages of the project.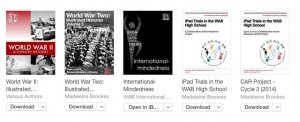 eBook Project – World War Two: Illustrated Histories
At WAB, for the Grade 10 MYP Humanities course, we have published a series of eBooks focusing on World War Two through the lens of the students home histories. Each eBook is a compilation of the students research essays.
World War Two: Illustrated Histories (published 2013)
World War Two: Illustrated Histories, Volume 3 (published 2014)
Collaborative Action Research: iPads in the High School
We have developed a model for action research for our colleagues in the High School.  We have now run two cohorts of Collaborative Action Research specifically looking at the introduction of iPads in the WAB High School. We used iTunes U for our course materials and we are publishing our findings online in an eBook format.
The 2012-13 course can be found on iTunes U here and the eBook can be found here.
The 2013-14 course is here and the eBook can be found here.
Creating a Visual Definition of International-Mindedness
Our task, as an International Baccalaureate school, was to create a definition of international-mindedness that would be accessible to our whole school community and beyond. My role was to chair the committee. The eBook of the journey is available in the iBookstore here.  Additional details can be found here.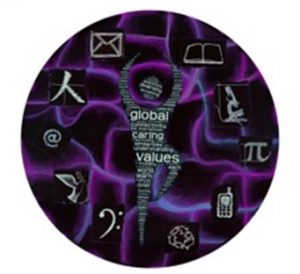 Technology Task Force: Audit of current Technology Vision
In 2013, the Technology Task Force was set up to review the technology vision and plan at WAB. The first undertaking was to examine our current Technology Vision using a rigorous, quantitative data analysis approach which involved interviewing over 20 focus groups across the whole school community, coding the data collected, triangulating the data through surveys back to the community and drafting a report of the findings.
WAB-TTF-Phase1InitialFindings & WAB-TTF-Phase2FinalReport