2017
Learning2 Europe (American International School of Warsaw)
Learning2Leader: Connectivism – A Learning Theory for the Digital Age
2016
Learning2 Asia (Saigon South International School, October)
Learning2Leader: Connectivism – A Learning Theory for the Digital Age
Learning2Talk: Reimagine Learning  – One Passion at a Time

2015
Learning2 Africa (American International School of Johannesburg, November)
Learning2Leader: Measuring the Impact of Technology in the Classroom Through Action Research
Learning2Talk: RTR
EARCOS Leadership Conference (October)
Co-Presenter with Melanie Vrba: Measuring the Impact of Technology in the Classroom Through Action Research
Eduro Learning Institute: Seattle (July)
Co-Presenter with Chrissy Hellyer: Empowering Student Creators
#beyondlaptops – Presenter and Organiser (Yokohama International School, Japan, April)
Presenter: Collaborative Action Research Projects at WAB 
2014
EARCOS Leadership Conference (November)
Presenter: A Visual Definition of International-Mindedness 
Learning2 Asia (NIST, Bangkok, October 2-4) – Learning2 Advisory
Learning2 Africa (International Community School of Addis Ababa, September 18-20) – Learning2 Advisory
Workshop: Design Thinking Challenge
Tianjin International School
Presenter: Introducing iPads into the IBMYP & IBDP (April)
#beyondlaptops – Participant (Yokohama International School, Japan, April 18-20)
Beijing Learning Summit (ISB, Beijing, March 8) – Conference Organisation Team
Workshop: iPads in the High School – Action Research, co-facilitated with Jeri Hurd (HS Librarian) 
2013
Learning2 – Learning2Leader,  co-chair, organising committee – Learning2 Advisory (UWCSEA Singapore, Oct)
Learning2Leader – Collaborative Action Research Model based on iPad Trials in the WAB High School
Learn2Talk – Walking Off My Technology Addiction
Apple Distinguished Educator Institute (Bali, Indonesia, March)
Organising Board
Co-presenter Collaborative Action Research Model based on iPad Trials in the WAB High School
American International School, Dhaka (January)
Presenter: Formative Assessment and Technology in the Middle and High School
2012 and previously
Learning 2.012 – Chair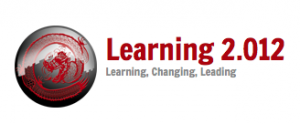 (WAB, Beijing, October)
Beijing Learning Summit 2011 (WAB, November 19 2011)
Organising committee member & Presenter
Apple for the international school community in Soeul, Korea, September 30 – October 1 2011
Workshop leader
Learning2 – co-chair (SCIS, Shanghai, September 2011)

ADE Institute (HCMC, Vietnam April 2011) – institute organiser – ADE Asia Advisory Board members were invited to plan and help run the institute in HCMC for 60+ new ADEs.
Flat Classroom Conference – ADE workshop facilitator/presenter (BISS, Beijing, Feb 24-27 2011)
Beijing Learning Summit 2010 (WAB, November 2010)
Organising committee member

Workshop: iMovie in 58 minutes
Learning2 (Shanghai) Cohort Facilitator: First Steps in Changing the Classroom
Global Education Conference 2010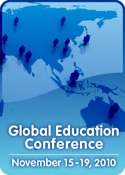 Mentor Chair & co-presenter
Presentation: Inside ITGS: Cyber-Students Share their Connected Learning
With Julie Lindsay and her ITGS students at BISS along with my ITGS students at WAB. Click here for the recording.
K-12 Online Conference 2010
Presentation Title: Inside ITGS: Cyber-Students Share their Connected Learning
Inside ITGS is about classrooms globally coming together to form an online learning community for the IB subject Information Technology in a Global Society. Madeleine Brookes from Western Academy Beijing and Julie Lindsay from Beijing (BISS) International School, both in China, explore the impact of virtual communication and collaboration and feature the students from pioneer classrooms in a rare face-to-face meeting. It is through their eyes, as cyber-students, that we will learn more about how to use emerging technologies and build stronger more effective learning communities.
Watch the teaser here:
Apple Leadership Summit (Hong Kong) 24-26 April 2010
Presentation: Reinventing Western Academy of Beijing & Moving to a 1:1 Environment: A Model for Professional Development
TEDxEDUcn – Courage, curiosity and creativity (ISB November 15 2010)
Organising committee member
Hosted by International School Beijing (ISB). Jointly organised by Western Academy Beijing and ISB. An official TEDx event which followed the usual requirements of including the opening TEDx video, online TED talks interspersed with over a dozen live TED talks.
Beijing Learning Summit (WAB, October 2009)
Organising committee member
Workshop presenter: WAB's IWB journey – research to implementation