The Beijing Learning Summit 2010 certainly delivered what was offered: 'authentic, just-in-time PD that is both effective and affordable.' We had over thirty presenters from eight different schools – the vast majority were classroom teachers who came to share ideas on how to enhance the teaching and learning in the classroom, and beyond, through the effective use of technology. We were joined by a diverse range of educators: over 170 participants from over 20 local and international educational institutions from Beijing, Tianjin, Nanjing, Shanghai and Bangkok, Thailand.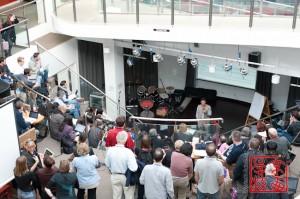 The rich conversations started on the pre-conference day tour of the technology facilities at three International schools: WAB (Jeff Holte), ISB (Rob Cormack and Russell Layton) and BISS (Julie Lindsay) with our out-of-town presenters: Brian Lockwood, Ann and Billy Martin from Nanjing International School, Jonathan Chambers from Shanghai American School and John Burrell from Bangkok Patana School.
Our theme this year was 'Ideas for tomorrow, tools for today' which was explored by our two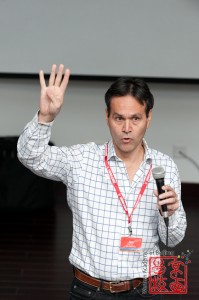 keynote speakers, both of which are parents of WAB students: John Ball from Microsoft and WAB board member, Ian Stewart. John presented a number of exciting future technologies such as the way we will communicate and interact and with technology through developments in avatar technology. His suggested that the student's ability to succeed and excel will directly correspond to the skills and knowledge acquired whilst they are obtaining their education. Ian's provocative 'TEDtalk-type' close challenged the relevance and purpose of today's curriculum: to what extent are we preparing our students for tomorrow's world?
The lunchtime student panel was insightful. For me, a HS integrator, this Q&A session was an anecdotal measure of the extent to which technology is an integral part of their learning. The panel comprised a handful of articulate and engaging grade 11 and 12 students; students who will graduate from WAB with a ticket to the next step in their journey. Some students believed that technology limited their capacity to retain knowledge and preferred to use more traditional 'pen and paper' tools for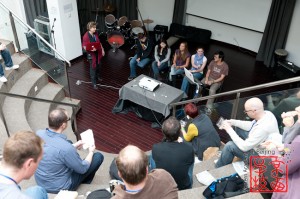 note-taking and writing essays. It became clear to me that until the tools for assessment catch up with technological advances, (for example, the majority of these students will hand-write their exit examinations), we have a challenge on our hands trying to finding the right balance in the use of technology. I cannot help but wonder if we are effectively employing or applying the tools we currently have in order to enhance the learning of these students?  And in the longer term, does and should the curriculum address the opportunities that are presented by the technological developments as described by John and Ian? Is it the curriculum itself or the delivery of the curriculum that may hinder our students' digital development and hence limit their future prospects? Is the tension increasing between curriculum and technological advances? Can I detect an emerging digital divide? And if so, what as an educators are we doing to bridge this gap?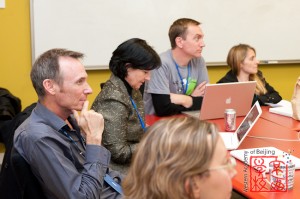 This summit certainly helped narrow this gap for me and I hope for many of the participants. Although it will take time to synthesize and make sense of the big ideas in order to effect change for the long term, I took away a huge number of diverse, practical and 'just-in-time' tools and ideas that I can use now in my teaching. One idea learned in the morning solved my problem of simultaneous voice recording; how to get a clear narration with 20 students in a small room all trying to do record their 'sound bytes' on individual laptops?  Who would have thought that a paper cup with a tiny hole in it's base placed over microphone would make such a difference?
So thank you to the 170 busy front-line educators who came together on a busy weekend to learn and share and continue the conversations. Although exhausted – I am looking forward to Beijing Learning Summit 2011. Who wants to join me?
The first Beijing Learning Summit (2009) was a grass-roots initiative led by five Apple Distinguished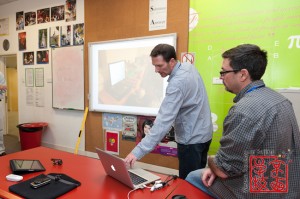 Educators (ADE): Rob Cormack (ISB), Jeff Plaman and Thomas Galvez (formally ISB), Sheldon Bradshaw (WAB) and myself. This year, the core team (Rob, Sheldon and Madeleine) were were joined by Julie Lindsay (BISS) and Jeff Holte, Beth Gourley, Tom Adamick and Muhammed Azeem (all from WAB) along with major contributions from the ADE network in Beijing. This summit could not have happened without the support of the school representatives, the student geek force and discussion panel, the WAB student Fan Club (who provided hot cookies straight from the oven throughout the day), along with the sponsors to keep the costs down, Bitepita (for lunch) and Fish (beverages) the large number of behind-the-scenes staff, and the overall support of WAB.