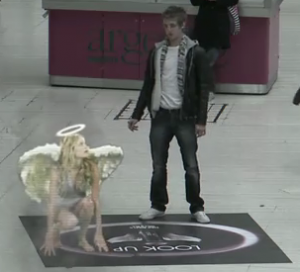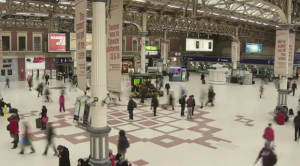 Yesterday I was chatting with Andrew Churches (Edorgami) on Skype and he sent me this link to the Lynx marketing gimmick which uses augmented reality (AR). AR is the ability place computer-generated graphics in the field of vision of the viewer. The gimmick is a marketing strategy for Lynx set in London's Victoria Station and targeted at the male commuters who pass through the busy station concourse. On the ground is a large black Lynx Excite box directing the commuters to look up. So, what do they see? A 'sexy' Lynx angel descending down to greet them and captured live on the huge screen on the station concourse.
Our (inevitable) question was 'Wow! How did they do that?' Here is a slightly edited version of our Skype conversation:
Andrew: 'A vactor (Virtual Actor) is my guess plus the green screen to get the composite picture'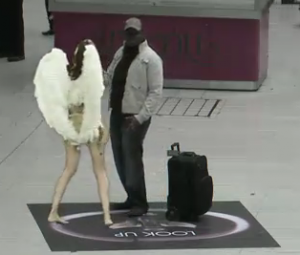 This turns to a discussion on who the actor is:
Me: She is a famous UK WAG – Kelly Brook
Being British, I know that one of the fallen angels is in fact Kelly Brook – who I recall is quite a famous model and possibly a WAG. Good old Wikipedia describes WAGs as 'as an acronym, used particularly by the British tabloid press, to describe the wives and girlfriends of high-profile football players'
Andrew: OK… is she a vactor of a wag or a real wag…for that matter does she bark and wag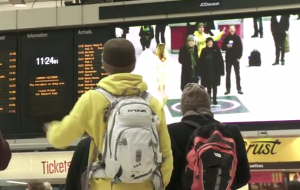 Me: So, if she is a vactor, she has been 'animated' and made into an avatar (like in Second Life) and is controlled by the dude on the computer that we see in the video
OR
it's a merge of two live feeds on the screen. My guess is the second one!
A: Could well be – would take more than a laptop to run the vactor and I don't know how good they are in realtime…
I have since researched Kelly Brook and found that she was due to give birth (March 16) about 10 days after the event (March 5). Thanks to Wikipedia (again), I found that the father is her  Rugby Union boyfriend (so, Andrew, I was right there about the WAG thing).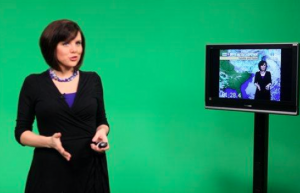 As you can see from the images, she certainly did not look heavily pregnant when dropping out of the sky so I concede that Andrew was right and I was wrong! Kelly was not, in fact, acting in real-time and holed up in some studio being a little more interactive than a weather lady on TV which where is it all gushing winds and rain and a bizarre hand-eye coordination thing happening.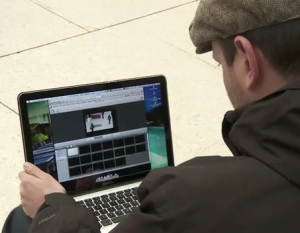 So back to how did they do it?
My revised idea: A series of set moves are pre-recorded of Kelly being a fallen angel set in front of a green screen. A laptop is loaded with these 'set' moves and the guy on the computer selects the move according to the behaviour of the general public (yes, there are rather 'racy' moves…)
Alternatively, like Andrew suggests, Kelly is turned into a vactor, akin to a Second Life avatar but much more life-like, allowing real-time interactions. The avatar is controlled by the guy on the computer.
For me, the final clue, and game breaker for me, was the Macbook Pro sighted in the video. No cables so must have been wireless (hmmmmm)….possibly OK to mix feeds in realtime and transmit wirelessly to screen but I am not sure it is powerful enough to render the lifelike graphics required for a vactor.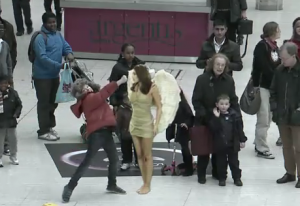 So what now? Could this idea be turned into a really coooool ITGS project? That led us to a  conversation about ITGS projects being about products and not processes that may not lead to a final 'product' – more thought and discussion required here.
However, just thinking about the possibilities for within our school – we have a tricaster system and a big screen on our sports field….what about our WAB Tiger mascot interacting with our players – or multiple mascots?
We have a great dance program – perhaps our dancers could interact with their audience? Even our WAB Elementary tri-weekly TV broadcast could find a great use for AR.
And what about in my own classroom? Perhaps a classroom management tool – I could set up a webcam in my classroom, project the feed onto the whiteboard and appear behind each of my students (simultaneously)….now that would scary!
For more about the Lynx Angels click here.