At Learning 2.010,  the more you put in, the more you get out. It is a place where you make connections and develop your personal learning network. It's about you finding out what you want to learn and then how and where to learn it.
In the First Steps cohort, our aim was for participants to walk out with a digital shared space which contained: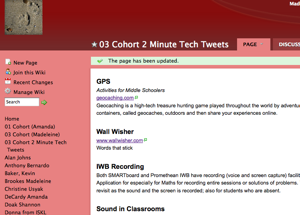 1. A vision for how they want to change their classroom/community
2. A practical action plan/road map on how they might get there
3. An expanded Personal Learning Network which may include a mentor for guidance
My cohort was a very diverse range – as is always that case with any group of educators – ranging from low to high technology skills; high school to kindergarten, arts to science, tech integrators to tech beginners…all highly professional and all experts in their own fields. Wow – what a bunch!
Did we achieve the goals? Absolutely, the majority of the cohort not only developed (collaboratively) their road maps, but also published online and linked up with a co-mentor. Here is the amazing array of goals, each one leading to a unique road map/action plan:
For me, it was a huge learning experience and one of the best professional development experiences I have ever had. From the onset, being invited to be one of the cohort facilitators was a major achievement but also one of the most daunting and terrifying experiences. Two days before the conference, we came together from places near and far. For 48 hours, we talked, discussed, planned and bonded and become a community of cohort facilitators. The second 48 hours, we then formed a community of learners with our cohorts. In 4 days, 450+ people came together as the Learning 2.010 Community.
Thank you to my cohort team: Amanda DeCardy (SAS), Michael Boll (Concordia) and David Elliott (ex-HKIS) the First Steps team. We planned, we discussed, we bonded and it was an awesome ride!