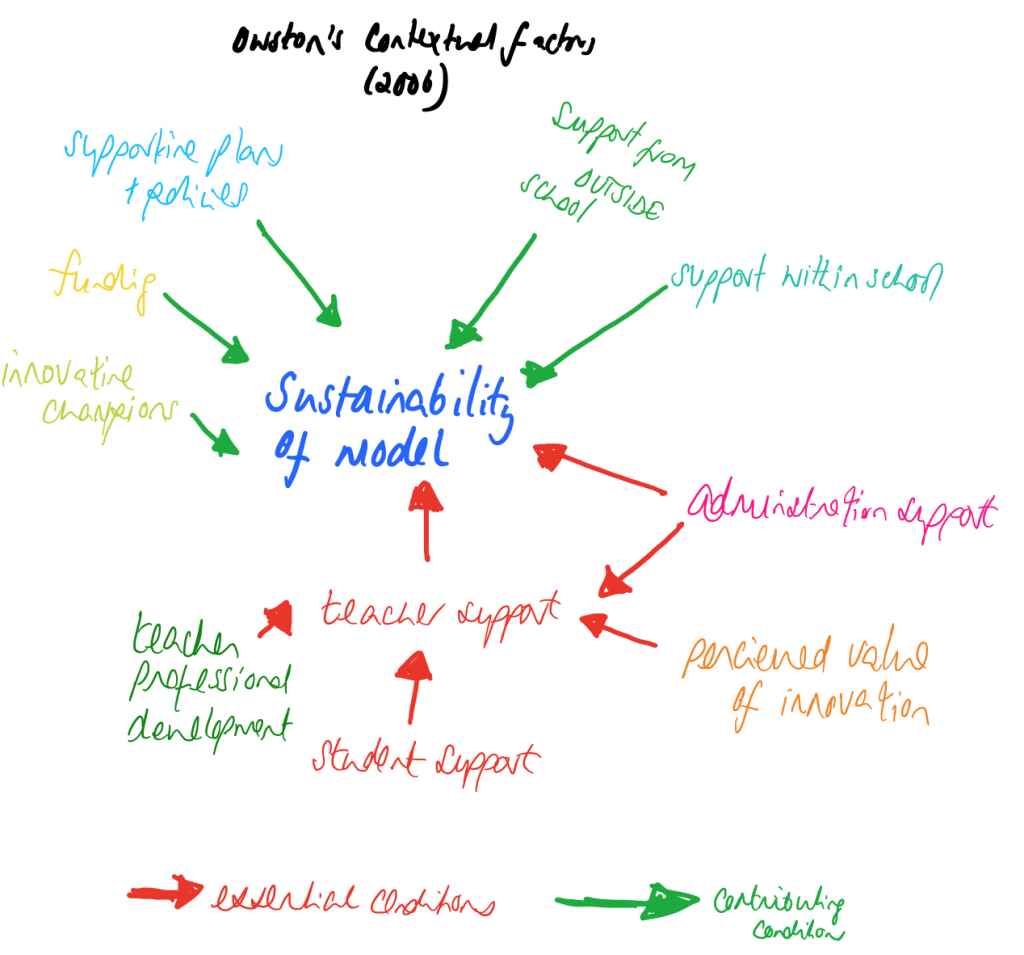 There are many models for change; however, Owston's paper is one that I keep revisiting and sharing. A few years ago @sbradshaw and I presented this model through the lens of two  innovations that we had brought in at WAB as we looked for reasons for the success of our 1:1 laptop program and our failure with Interactive Whiteboards.
This is a quick post what will act as a place for me to find and revisit this paper and graphic.
Abstract:
Pedagogical innovation—whether involving technology or not—is shaped by a complex interaction of the innovation with contextual factors such as school and school district policy, leadership, cultural norms and values, teacher attitudes and skills, and student characteristics. This study examined school and classroom contexts in which pedagogical innovations employing technology were successfully sustained. Data were obtained from 59 cases drawn from the Second Information Technology in Education Study—Module 2, a project that examined 174 cases of innovative pedagogical practice in schools in 28 countries. An explanatory model of sustainability was derived from a qualitative analysis of the cases using grounded theory techniques. Essential conditions for the sustainability of classroom innovation were teacher and student support of the innovation, teacher perceived value of the innovation, teacher professional development, and principal approval. Contributing factors for sustainability were supportive plans and policies, funding, innovation champions, and internal and external recognition and support.
Reference
Owston, R. (2007). Contextual factors that sustain innovative pedagogical practice using technology: An international study. Journal of Educational Change (Vol. 8). http://doi.org/10.1007/s10833-006-9006-6